Invisalign® to the Rescue
Invisalign® corrects many orthodontic issues without the hassles of traditional braces. This means no unattractive metal wire, no uncomfortable glued-on brackets and no annoying rubber bands that can leave your mouth sore. Invisalign® uses a series of clear and custom-fit removable aligners; we are able to straighten your teeth in no time. In most cases, Invisalign® treatment takes about a year.

Did we mention Invisalign® is removable?
Because the aligners used in the Invisalign® treatment process are removable, you can eat the foods you love to eat (steak, corn and bubble-gum don't mix well with traditional braces). Additionally, when you need to brush and floss, you don't have to buy special tooth brushes and flossers designed to fit between the wires and brackets of braces. The full course of treatment involves changing the Invisalign® aligners approximately every two weeks, moving your teeth into straighter position step-by-step, until you have a more beautiful smile.
Not All Teeth Can Be Perfect
Having crooked, crowded or gapped teeth can be embarrassing, sometimes painful and often uncomfortable. Generally speaking, when you speak to a dentist, he or she may recommend treating your orthodontic problem with years of uncomfortable and unattractive metal braces. This is the biggest distraction for patients to fix their teeth and enjoy a perfectly aligned smile but here at Center For Advanced Dentistry, we want you to know there is a modern way to straighten teeth and even correct misaligned bites without the use of traditional braces. We use Invisalign®!

If you have gapped teeth, an overbite, underbite, open bite, crossbite or overly crowded teeth, Invisalign® may work for you! Call us at (408) 340-6480 or request an appointment online to come into the San Jose dental office of Center For Advanced Dentistry. We would love to be able to discuss an Invisalign® plan specific to you and get you well on your way to a beautiful straight smile!
Treatment Plan
We will thoroughly evaluate the condition of your teeth by visual inspection as well as taking precise radiographs. This will allow us to determine how to best position your teeth, step-by-step throughout the Invisalign® process.
Custom Aligners
A high-tech Invisalign® lab designs a series of clear Invisalign® aligners based upon the exact requirements needed to treat your specific case.
Wear A New Aligner Every 2 Weeks
Depending on your specific situation, the exact time between changing aligners can vary but generally speaking, you will wear your aligners every day (about 20-22 hours a day) and start wearing the next set of aligners approximately every two weeks.
The Big Reveal
During the final days of wearing your last aligner, congratulations; you have now achieved the beautiful straight smile you were after! IT IS POSSIBLE. Call us at (408) 340-6480 and let Center For Advanced Dentistry prove to you that Invisalign® can work for you.
What do aligners look like?
Aligners are clear and nearly invisible. If you've ever seen clear teeth-whitening trays, that should give you a good idea of what the aligners look like. Invisalign® aligners are custom-made to fit and move your teeth.
Will the treatment be painful?
Each time you change to a new aligner, there may be some temporary discomfort while your teeth adjust to their new position. This is completely normal, and is a good sign that the treatment is working.
Will wearing Invisalign® aligners affect my speech?
Some people are affected more than others, but most adjust in a short period of time to the feeling of the aligners and do not have permanent changes in their speech.
How often will I have to wear my aligners?
Invisalign® only works while you're wearing the aligners. It's recommended that you wear your aligners full-time, day and night, except to eat, brush, and floss your teeth.
What happens after treatment to prevent my teeth from moving again?
This varies person to person and depends on the outcome of the treatment. Some patients might need a positioner, or conventional retainer. Other patients might need a clear plastic retainer.
How Affordable is Invisalign®?
The total cost of Invisalign treatment is similar to that of traditional braces. Many dental insurance plans cover Invisalign treatment just as they would with regular metal braces. Every unique case has many different factors that can all affect total treatment cost so it's extremely difficult to put a price tag on custom treatment plans.
Center For Advanced Dentistry can do all the leg-work for you and will check with your dental insurance provider to see just how much they will cover.
Call our office at (408) 340-6480 or request an appointment and come in to be evaluated. Only then will we be able to quote an Invisalign treatment plan, work with your insurance and talk about available payment options. We will make sure there is no guessing and you know how much your specific treatment will be. Most patients are amazed at just how affordable and easy it is to obtain a straighter smile!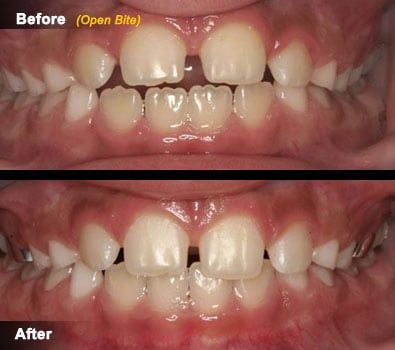 These are two common problems in children that have their origin in discrepancies between the size of the jaws (top and bottom), or discrepancies between the size of the teeth and the amount of space available.

1. A posterior cross bite can appear at an early age, and depending on its cause (malpositioned teeth or misaligned jaws) treatment may be warranted early. It can involve one or both sides of the molar area and in some cases in can cause a 'shift' of the bite. Many appliances are available for treating this condition and your dentist will discuss in detail the risks and benefits of treating a posterior cross bite.

2. Anterior open bites refer to a condition in which the top and bottom front teeth are not in contact (they do not touch each other when the patient bites). The origins of open bites can be traced to habits that patients have or had in the past, and occasionally to discrepancies between the sizes of the jaws. Since most open bites in children are associated to an existing habit, treatment usually addresses the habit itself and is most effective when done at an early age. Many appliances are available for treating this condition and your dentist will discuss in detail the risks and benefits of treating an open bite in children.
SCHEDULE YOUR APPOINTMENT
---
The Center for Advanced Dentistry would love to meet you and your family
and provide you with the dental care you need and give you all smiles you deserve!
---
By Phone
---
Center For Advanced Dentistry (Reviews)
based on
14
ratings.
Fourteen San Jose Dentist Reviews.
2014
Jesse J.
★★★★★
Super friendly and inviting office.... but I hear they're moving to an even better location two doors down!
The staff is welcoming and friendly, and Dr. Lim is awesome, makes you feel like family and you've known him forever.
Recently went in for impressions and WOW, they rocked it. I've had braces 3x and every time I swear they mix the paste wrong and choke me! Not here. They had just finished up some safety standard meeting with a trainer. It's always nice to know they're staying informed about sanitation and cross contamination to keep their patience safe.
Location is a little hard just because it's a divided road, you'll have to flip a u-ie if you're going back toward Santa Clara. Totally worth a visit.
2014
Laurel F.
★★★★★
The motto of this dental practice should be "come for the dental work, stay for the view!"
Seriously, this office has the most amazing view of the bay; it's up on the 6th floor above Union Street and from your little dental chair of doom one can enjoy sweeping views of the Golden Gate Bridge, Alcatraz, and the rest of the postcard perfect sights while biting down on that evil little piece of plastic to get your x-rays. We're talkin' a penthouse suite, big balla type view - if this was a hotel room it would be $1,000 a night. But instead of paying big bucks, I just have to put up with a little bit of scraping and grinding and I can enjoy it for FREE! (Thanks dental insurance!)
I've been coming here since I was a kid (when it was Dr. Bolan's practice) and somehow the fabulous views and kind staff always made getting my teeth cleaned much easier. My dental hygienist, Stephanie, is gentle, efficient, and detail oriented, and the front office staff are always pleasant and helpful.
Dr. Lim is the newest member of the practice (which used to include Dr. Keith and Dr. Chao) and I believe he has pretty much taken over for them. He is young, smart, knowledgeable, and easy to talk to. He's a prosthodontics and dental implant specialist, so since I basically just come in for cleanings and the occasional tiny cavity, it's kind of like having Thomas Keller fix you a grilled cheese sandwich - he's way too talented and educated for my minor dental issues, but he always treats me like I'm as important as anyone else.

2014
ILove Y
★★★★★
Dr Steven Lim sold his practice to Dr Potesta-Knoll and Dr Knoll this past year but they're ALL awesome. I had Dr Lim remove a tooth for me in November and since he sold the practice he incorporated Dr Potesta-Knoll and Dr Knoll into my treatments. The transition was WAYYY easier than I was afraid (no one likes change) but they're all so nice and helpful. Dr Potesta always has a smile on her face and Dr Knoll was very warm and understanding to any little issues I had with my dental implant.
And their Nurses and support staff make appointments so simple and always glad to see me! Especially Sue who I've been dealing with since last year when she saw me through my worst!
Ada and Bella are also super duper real and they're so nice I don't think "nice" is the best way to define this team! And Dr Potesta has a few new nurses/support staff who I don't know the names of but I just don't think there's every been a grumpy person in that office.
Although I have no insurance coverage and I am paying for everything myself, they're one of the few that I will say, money well spent and well worth it!
2014
Nicole C.
★★★★★
Great service!! Friendly nice professional staff. Very gentle but still great, they make you feel very comfortable and welcome. If your looking for a nice reliable trustworthy spot this is it!
2014
Jan V.
★★★★★
After feeling not very well attended to at my previous dentist, and having my wife be very happy with hers. I started considering switching to hers: Dr Lim.
Another reminder was the quality of her mouth guard (that Dr Lim made) compared to mine. Mine was just way cruder, bigger and I assume less comfortable.
So I switched. I have been there about 5 times now, and had both routine and substantial dental work done. Every time I have had the experience that Dr Lim and his staff are attentive, committed to quality work and a happy me, and able to deliver on both :)
2014
John V.
★★★★★
Having lived in San Francisco for nearly 5 years, I can say with out hesitation that Steve Lim is the best dentist I have found, after visiting many. I found his practice being referred by a friend after I had a filling done by another dentist (I will not mention) which was causing me pain.
Dr. Lim identified the problem that my previous dentist had broken the filling and did not repair it correctly, he re performed the corrective procedure, and now it is better than it ever. I would enthusiastically recommend Dr. Lim and his friendly staff to any friend.
2014
Kaiya N.
★★★★★
Dr. Lim and his staff are simply the best. I have had so much dental work done I feel like a professional critic by now! I have gone through oral surgeons, ortho's and prosthodontists and he is by far the best I have seen. He is honest, easy to talk to, and he listens. But most importantly, his work is really good. I received a dental implant from him that was painless, I was not even swollen the next day. I think I took one ibuprofen. He is completely comprehensive in his care, meticulous, and humble. He is the only dentist I see now.
It is so important to put you dental care in the hands of a true professional, I am grateful to have found him.
2014
Mina M.
★★★★★
You won't find a better dentist, seriously, I know. I've moved many times and have had to jump around to many different dentists, but Dr. Lim and his staff are so good, that no matter where I end up, I'll always come back. The staff is super friendly and the teeth cleanings are not your normal run of the mill cleanings...they are seriously no joke! She takes her time and gets into every possible nook and cranny. I can't help but flash a huge smile every time I leave the office and walk down Union St. showing off what feels like a whole new set a squeaky clean teeth. Dr. Lim always remembers little things about me and treats me like I feel he would family. He's very personable and acts like he cares a lot. He always explains what he's doing and prepares me for what's to come next. The implant I had to get ended up being a far less scary procedure than I expected and couple years later, it still seems perfect. He walked me though the whole thing and even followed up after the procedure to see how everything was going, which again shows that he really cares about the patient and his work.

And the cherry on top is the incredible view!! It really doesn't get any better. Laying down on that super comfy leather recliner, having someone clean my teeth and enjoying the amazing view of the Palace of Fine Arts, the GG Bridge and the Bay makes me feel like I'm treating myself to a spa day! I actually look forward to my visits to Dr. Lim's office and go in a lot more regularly to get my teeth cleaned. Highly recommend a visit to Dr Lim's office...you won't be disappointed!
2014
Allison W.
★★★★★
I used to dread going to the dentist especially for fillings but Dr. Lim is amazing. I couldn't feel a thing and I have a ridiculously low pain threshold!! Don't hesitate to see him...
2014
Kristi C.
★★★★★
Best dentist, Best dental hygienists, Best office staff, Best Location! Highest marks for this extraordinarily well qualified (academics, experience, specialized training in several areas of state-of-the-art dentistry) San Francisco dentist. Dr. Lim's dental practice is run with the patient's comfort and high quality care as first priority. You know you are being treated by a dentist and staff who are highly qualified and professional, as well as current on the latest in dental health and state-of-the-art dental procedures
2014
Randi J.
★★★★★
I can only say positive things about Dr. Lim and his office. I had a couple of implants put in just yesterday and I wasn't even nervous at all. He did a fantastic job as always. I will never go to any other dentist office again! They have the newest technology equipment. The staff personnel is very professional and super nice. The office itself is super clean...even the restroom! Actually I was quite impressed with the restroom because it was/is exceptionally clean and all new. Thank you so much for all the great work you have already done and are going to still do!
2014
Reginia B.
★★★★★
We found Dr.Lim since his new office is located near us off Bascom. My husband went to him first came back raving about how great they were. I booked my appointment a week later. He was so right! They are awesome! They did such a great job cleaning and the Dr.even did a little extra sanding on one tooth that was chipped and causing staining. What I really loved most was how nice they were and that they didn't turn into a car dealership and just try to sell me garbage like my last dentist in Los Gatos. I highly recommend this office to anyone looking for a dentist.
2014
Corina N.
★★★★★
I highly recommend Dr. Lim, as he is a world renowned prosthodontist - the best one in the Bay Area (trust me, I did my research!).
I've been going to his office for cleanings and cavity fillings for over 2 years before I decided to trust him with one of the most important things in my life - my smile make-over for my wedding. Dr. Lim did an amazing job! I used to always smile with my mouth closed, never showing my teeth. Now, my smile is so open and radiant. I'm not afraid of showing my pearly whites and I am constantly getting compliments on them. This literally made me a 'happier' person - I smile widely all the time!!!
Dr. Lim and his staff are caring and professional. Everyone who works at his office seem to genuinely enjoy what they do, and they are always cheerful and helpful. No one likes going to the dentist, but this place makes it as enjoyable as it can be. And if you're looking for a smile make-over, Dr. Lim is your guy!
2015
Gina F.
★★★★★
Love this dentist office They are always so friendly and efficient! Dr. Lim is such a nice guy and knows his work.